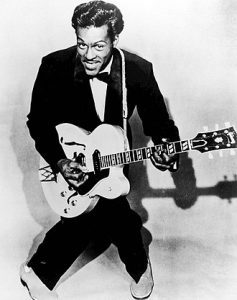 For music, everything you need to know about Rock 'n' Roll is right there in the title. It's a complete sensory experience. So complete that as a genre it has now transcended multiple generations since the 1950's. In the world of school furniture, there is a category (or genre if you will) called, "Wobble Stools." Everything you need to know about wobble stools is also in the title.
Now if I had to pick a person who embodied Rock 'n' Roll it would be Chuck Berry. He was an original, the guy who literally created human movement through his electric guitar, the real deal. If there is ever a hall of fame for flexible furniture, the VS Hokki Stool would be a founding member, a complete original in design and function, and as VS says, "bodies and minds in motion."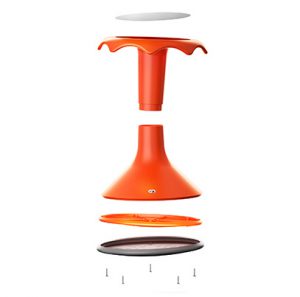 There have been many imitators to the original VS Hokki stool but quality in design and durability are key elements to putting a piece of furniture in a K-12 school environment.
Currently in the United States, there are classrooms  using student desks and chairs  that are twenty years old. With that in mind, you have to think that if a wobble stool is worthy of a school district purchase, it must stand the test of time.
At D&D Learning Spaces, we feel the VS Hokki stool is the best wobble stool, period.
In recent years, the wobble stool has gained status as a viable school chair for K-12 students with a growing number of educators and parents wanting this solution for their children in classrooms. It is no secret that many teachers are not waiting for their school district to provide their classrooms with flexible furniture. Instead, they are taking the initiative themselves. The 'Flexible Furniture Movement' has in large part been an organic process that is self-started and self-funded by teachers and parents.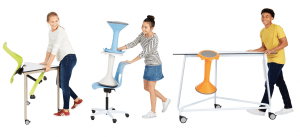 All of this is very close to me being a former teacher myself. I have two daughters who are currently K-12 classroom teachers. They are both slowly and steadily crafting their engaging flexible classroom environments, on their own.
Now both of my daughters have been through what I'll call, "the penny wise and pound foolish phase" of buying bean bag chairs, yoga balls, floor-gaming chairs, and some cheap 'put together' furniture. All of which have either gone flat or broken down within a year or two.
My daughter Katie, who teaches third grade recently said to me, "I'm done with all the cheap online furniture that I paid for out of pocket." And my other daughter, Shawna who teaches sixth grade has concluded that she's "Now going to spend her classroom budget on one quality table or a couple of quality chairs a year." Shawna by the way is still using the two VS Hokki Stools that D&D Learning Spaces donated to her several years back. Yes, dad hooked her up, but also never underestimate the resourcefulness of a teacher!
Why do students and teachers love VS Hokki stools so much?
The first time students sit on a Hokki stool they instantly learn how to gently rock their hips, rolling the convex bottom side to side and front to back. It's rock and roll baby!
Sitting on the Hokki is stimulating where movement is natural and unrestricted in a 360 degree rotation. It is made with a polypropylene shell, ergonomically curved seat, and slip-resistant base, all made with 100% recyclable materials.
The Hokki comes in fixed heights from 12" 15", 18", 20", and 24."
The Hokki+ Height Adjustable comes in two sizes- 15" to 19 3/4" or 19 3/4" to 26 3/4". It  has pneumatic height adjustment with an anti-twist protector, resulting in overall stability and seating comfort. The adjustment mechanism is immediately accessible and can be triggered from any position with one hand.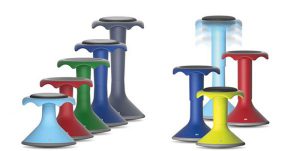 The Hokki design creates a slim profile compared to other student chairs. It is easy to stack and can even hang from the end of a table.
The Hokki stool compliments mobile and modular  classrooms that do not have all the same desks and chairs. It provides students a seating option to actively move their bodies compared to passive seating chairs.
And most importantly, Hokki stools are not just for young children. Think of children, young people, and adults all using Hokki wobble stools at school, home and work. This chair simply rocks!
Resources